New Year's Eve 5k Giveaway!
We are counting down to the New Year with $1,000 cash every hour starting from 8:00pm with the last draw being held at midnight!
$500 in CASH prizes PLUS entry into the Major Draw each week! - Fridays from 7pm
Be rewarded by using your membership card anytime you eat, drink or play & you could win cash at Sandhills Sports Club
How to Play: Earn 1 entry with every $10 turnover on the Pokies or $10 spent in our bar or bistro*
*Terms and conditions apply. Full Rules on display at the Club.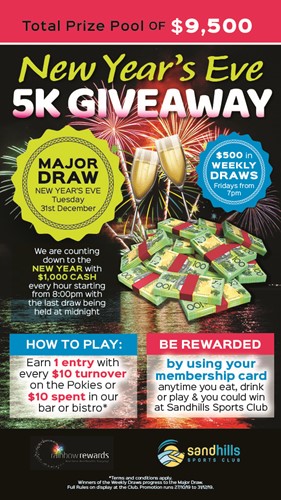 The Sandhills Sports Club supports responsible gambling and the contents of this page are not intended for minors or excluded patrons.